GIẢI VÔ ĐỊCH CỜ VUA NAM VÀ NỮ CHÂU Á NĂM 2004
Asian Junior Boys & Girls Chess Championships 2004
21- 30 December 2004, Bikaner, India
Giải được tổ chức tại Bikaner, Ấn Độ từ ngày 21-30/12 năm 2004. Hoàng Thị Bảo Trâm đã xuất sắc đoạt huy chương vàng nhóm tuổi U16 nữ.
Written by M. Manmohan Harsh, Source: Chessbase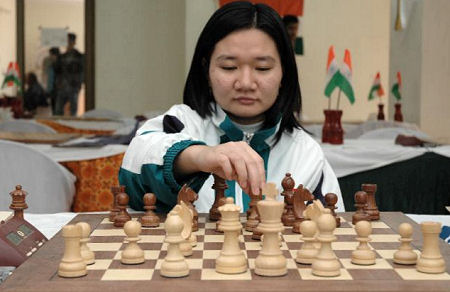 The 27th Asian Junior Chess Championship 2004 was held in Bikaner, India. Victory in the boys' section went to 16-year-old S. Arun Prasad of India, and in the girls' section to Hoang Thi Bao Tram, the Vietnamese Sub Junior Girls Champion. The host nation clinched a total of five medals. Here's an illustrated report by Manmohan Harsh.
India's S. Arun Prasad added another feather to his cap, when he clinched second Asian title of the year (2004) at the Asian Junior Boys & Girls Chess Championship, concluded at Bikaner. He bagged Asian Sub Junior Title at Tehran in April last year.
Hoang Thi Bao Tram, the Vietnamese Sub Junior Girls Champion, triumphed in girl's category. Tram came on her second trip to India and also second visits to Bikaner.
Bikaner once again proved happy hunting venue for this 17 year chess prodigy from imperial city 'Hue', as she collected another Asian title on Indian soil. Earlier, Tram emerged victorious in Asian Youth Championship (Girls U-14 category) in 2001 at Bikaner.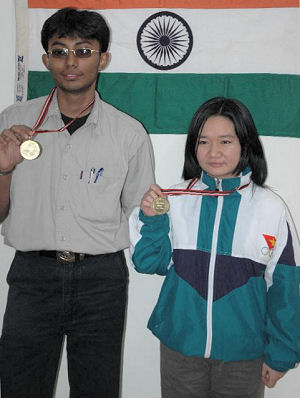 Gold medalist, Arun Prasad became eligible to receive his International Master (IM) title directly and as a bonus, he also captured his maiden GM (Grand Master) norm. Tram, in addition to her Gold Medal, earned the right of becoming new Vietnamese Women International Master (WIM) and collected her first WGM (Women Grand Master) norm.
IM J. Deepan Chakkravarthy and IM S. Poobesh Anand got the boys silver and bronze medals respectively. Among girls, WGM D. Harika and Soumya Swaminathan (both Indian), won the silver and bronze. Eight Indian boys shared first eight placing, while 8 Indian girls also figured among top 10.
Arun Prasad (2367 elo rating) a twelfth standard student from Salem, Tamilnadu left indelible mark of his superiority. Starting as 7th seed, he registered victories over third seed Abhijeet Gupta (2412) and 5th seed Deepan Chakkravarthy (2396) and drew his game against IM Filippov Anton (2475), IM M.R. Venkatesh (2450) and IM S. Poobesh Anand (2367), the first, second and sixth seeded players respectively. After his victory over Deepan Chakkravarthy, he looked all set for another Asian title, but G. Rohit, the silver medalist (Boys U-14) in World Youth Chess Festival 2002, in Greece, inflicted a blow on Arun in 10th round game.
The race for the boy's title went down to the wire as everyone on top three tables was in sight of title in last round. Finally, FM Abhijeet Gupta's chance of winning the title, came to standstill, when he was held by G.N. Gopal, when Arun was eyeing for a victory against Nguyen Van Huy for outright win was also forced to share the point.
Arun reached to 7.5 points, but with top board game still in progress between Deepan and Rohit, his title was not yet confirmed. Deepan couldn't put it across Rohit in the end, and this draw at championship point proved lucky for Arun Prasad.
In the initial phase, Vietnams duo Nguyen Van Huy and Hoang Thi Bao Tram stole the show. Nguyen among boys and Tram in girl's category with their fourth round victories over their Indian rivals IM M.R. Venkatesh (2nd seeded boy) and D. Harika (Top seeded girl) became cynosure of all eyes. Indian boys adopted defensive attitude of playing it safe (drawing games) when they played to each other, that's why Nguyen raced ahead.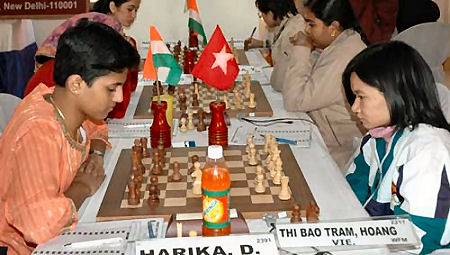 Nguyen after four successive wins was also guilty of getting interested in sharing of points as he started offering draw to his opponents. He suffered four defeats in a row after a dream start and was virtually out of race. Uzbek IM Filippov Anton and IM M.R. Venkatesh couldn't live up to their first and second seeding. Turkmenistan Junior champion, Mesgen Amanov shocked Filippov in the opening round. Filippov couldn't manage to get back at top. He also suffered defeats against India's National Junior Champion G.N. Gopal and Arghyadip Das to finish a poor 10th place.
M.R. Venkatesh too lost his game against Mesgen Amanov. He looked out of touch. His defeat against Nguyen Van Huy in fourth round also proved costly. Mesgen Amanov was the only boy, who downed top two seeds, but lack of consistency in his form gave him 16th place.
On the other hand, Tram maintained her sprit and positive approach despite a loss against Soumya Swaminathan in sixth round game. She went on to score 9.5 points to tie with D. Harika, but due to her better progressive scores, she prevailed over. D. Harika displayed her brilliance; her defeat against Tram cost her the championship. Otherwise she looked in total command. Soumya Swaminathan, the bronze medalist was the only player of the tourney who registered a victory over champion Tram. Malaysian women champion sixth time in a row, Siti Zulaikha also held Tram to a draw in the penultimate round.
This outcome helped Harika to bounce back in joint lead. She had to overrule Tram for title, but this was not the case as determined Tram downed India's N. Sandhya in the last round to touch the pinnacle. Marry Ann Gomes stopped D. Harika in 9th round, and thus ruined Harika's chances to race ahead of Tram. Marry again came over Soumya Swaminathan in last round that was assured of a medal a round to spare. It was very rare site in the end, Tram, Harika and Soumya all were assured for a medal after 10th penultimate round, but no one challenged each other in last round, because they had already played to each other.
In a Swiss tourney, the players meet only once, so, their (Tram, Harika & Soumya) fate was decided by the opponents whom they had left way behind on points. Soumya was beaten by Marry Ann Gomes but still managed to get bronze. Tram defeated N. Sandhya to clinch the title. Harika also won her last encounter against H. Soumya to tie for first place on points, but it was not adequate to leave Hoang Thi Bao Tram behind.
Final Standings
Top Ten Boys – country (Indians unless stated), rating, score & progressive scores
S. Arun Prasad (Elo ratings 2367, 7.5 points, 50.5);
Deepan Chakkravarthy (2396, 7.5, 48);
S. Poobesh Anand (2367, 7, 45.5);
Abhijeet Gupta (2412, 7, 45);
G.N. Gopal (2278, 7, 42.5);
M. R. Venkatesh (2450, 7, 40.5);
G. Rohit (2281, 7, 40);
Arghyadip Das (2353, 6.5, 44);
Nguyen Van Huy (VIE, 2325, 6.5, 43.5);
Filippov Anton (UZB, 2475, 6.5, 36.5)
Top Ten Girls
Hoang Thi Bao Tram (VIE, 2217, 9.5, 59);
D. Harika (2391, 9.5, 56.5);
Soumya Swaminathan (2137, 8, 49);
Kruttika Nadig (2182, 6.5, 41.5);
Saheli Nath (2130, 6.5, 41);
Mary Ann Gomes (2183, 6.5, 38.5);
N. Raghavi (2117, 6, 40.5);
Y. Prathiba (2203, 6, 38);
Siti Zulaikha (MAS, 2162, 6, 37.5);
P. Priya (2131, 6, 35);